About Aya and Team
Sedona School of Sacred Geometry
The Sedona School of Sacred Geometry was founded in 2005 by artist Aya, creator of the StarWheel Mandalas. Aya felt it was time for him to share with the world his main contributions to the emergence of a New Paradigm of expanded consciousness on planet Earth:
- A life-long experience of intuitive & visionary art creativity in the areas of Mandalas, Universal Symbols, Geometric Patterns, Iconics, Color Activation, Visual Music, Maps of Consciousness and Wisdom Traditions. This has resulted in the
StarWheel
Collection of 108 neo-mandalas and the corresponding 108
Picto-Koans
&
Sutras
.
- An extensive academic background as a scholar trained to synthesize inter-disciplinary information and research. This is a useful skill at a time when boundaries between disciplines are disappearing and when knowledge of the whole supersedes knowledge of the part. A great hunger for a more unified understanding of the cosmos (both outer and inner) is arising and this is reflected by the mounting interest in Sacred Geometry as a foundational knowledge and perennial wisdom.
- A personal life journey of spirit pilgrimage, yogic life-style and meditation, searching Self and exploring the world wisdom traditions with the intent of Walking in Beauty, Radiating Loving-Kindness, Swimming & Splashing in the Kundalini River of Light and Co-Creating a new Global Paradise-on-Earth.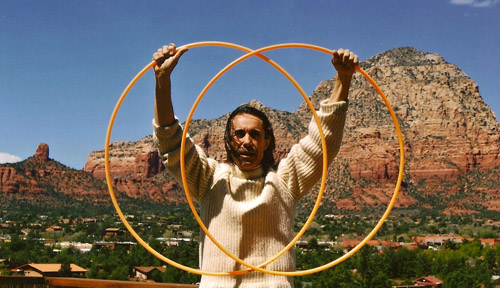 Aya demonstrating the Vesica Piscis
Welcome to the Japan Branch
of the Sedona School of Sacred Geometry!
Since 2009, we have had the honor of developing a business connection with Japan and working with a wonderful group of Japanese people, through sharing seminars and co-creating new educational products & services in Japan.

Hitoshi Furuki, manager of StarWheel and Sacred Geometry business in Japan, is also staff member of the Sedona School of Sacred Geometry. I honor Hitoshi for being a great friend who is creatively & efficiently developing new concepts & products to share & re-discover the cosmic wisdom of the New Paradigm with all of humanity.

Here is Hitoshi's Profile:

Hitoshi Furuki, born August 2nd, 1973. Living in Kanagawa, near Tokyo. President of Morning Hope Company Limited in Japan (www.morninghope.co.jp) and father of 3 cosmic children.

After studying in the UK for 6 years (College of Darlington and University of Sunderland - BA in Business Studies), I returned to Japan in 1996 to work for a Japanese company, being mainly responsible for overseas sales and licensing of intellectual properties. I then moved to a worldwide licensing agency, being responsible for licensing of well known intellectual property. In 2007, I set up my own company called Morning Hope Company Limited and currently, I work as a licensing agent, a developer of business projects, as well as a staff member of the Sedona School of Sacred Geometry for Japan.





The name of my company comes from my first son, Asahi and second son, Nozomi. Asahi means "Morning Sunshine" and Nozomi means "Hope". The mission of our company is to bring Hope to people like a Morning Sunshine and we would like to pursue a business that our children can be proud of as citizens of the Earth. We would like to send out the message that there is always a daybreak no matter how dark a night is and that there is always hope everywhere even though you cannot see it sometimes. All we need is to sense it with the light of our heart.

My spiritual quest started in 2006 when we lost our first son. We received so many signs from him after his death and we remembered that we are always together with his spirit and be as one. Feeling oneness is wonderful and brings much happiness. We then started to love our lives in the true sense of the word. My "real" life is just starting!

The personal goal I have is to love and enjoy my life, and also to support the transformation of people's consciousness so they can co-create the new paradigm as happy mediators.

My vision of education is that each child is born with their own spiritual purpose. They all have unlimited possibilities and abilities to manifest. I believe that education consists in helping the children to live their own lives with joy and happiness because the spirits of all the children know how to achieve their own purpose. I would like to co-create the opportunities to feel Oneness and Wholeness with all children through Sacred Geometry.

Business wise, firstly, I would like to work with Aya to establish in Japan a branch of the Sedona School of Sacred Geometry, so we can introduce and share the learning joy of Sacred Geometry. Secondly, I would like to develop tools and educational programs that can inspire people to discover and explore the potential of Sacred Geometry. Also, I am working on producing StarWheel-designed products as I feel that the StarWheels are a door for Sacred Geometry and can offer a wonderful transformational support.




Best regards,




Hitoshi